Zaino Show Car Polish Releases Z-AIO ALL-IN-ONE
FOR IMMEDIATE RELEASE
Wednesday, February 7, 2007
Zaino Show Car Polish Releases Z-AIO ALL-IN-ONE

Cleaner Polish and Protectant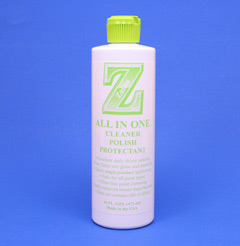 Howell, NJ (February 7, 2007): Zaino Show Car Polish ("Zaino"), a leading manufacturer of the world's most advanced car care products announced the release of Z-AIO ALL-IN-ONE. Zaino simplifies the task of surface maintenance with Z-AIO; a versatile, easy to use, single product synthetic cleaner, polish, and protectant.
"For every variety of vehicle, paint, surface, and individual consumer goal, there are countless multi-step products and processes to choose from," says Sal Zaino, president and founder of Zaino Show Car Polish. "Z-AIO is the perfect single process, go to product for your car, truck, motorcycle, boat, or aircraft. We know some consumers want to reduce the confusion and complexity to the myriads of product lines and numbers. With this in mind, we've spent years perfecting Z-AIO as a stand alone product. For some customers, use of Z-AIO on a daily driver is all they'll need."
Car care consumers and enthusiasts know that proper surface preparation and maintenance yield great results with owner pride and satisfaction. Some simply don't have the time or energy to engage in multi-step processes.
The success of the Zaino line centers squarely on high gloss and durability, as well as ease of application. Z-AIO is no different. Using the product sparingly on nearly all exterior surfaces including: paint (including door jambs), glass, plastic lenses, wheels, chrome, or any non-porous surfaces, Z-AIO is easily applied and later removed, without any marring or difficult to remove residue.
Z-AIO contains a very fine emulsifying cleaner and mild abrasive that gently cleans and polishes the surface. The advanced synthetic polymeric system offers excellent adhesion, detergent resistance, and glossy reflective surface. An independent professional detailer and enthusiast reports, "Z-AIO lives up to it's claims. It's easy to use, mildly cleans the paint, corrects minor imperfections, and has the gloss and durability that we expect from any product in the Zaino lineup."
While Z-AIO can be used by itself for great results, Sal Zaino admits that using Z-AIO within the full lineup of the Zaino system would provide the ultimate in gloss and durability, "Of course Z-AIO can be used within the Zaino system!", Sal exclaims, "Optionally incorporating Z-AIO with regular maintenance and usage of other products by Zaino will provide the most extreme enthusiast with the highest gloss and longest lasting durability in the industry."
It appears that Z-AIO has a position in nearly anyone's detailing product cabinet. Whether it's part of a system, or the only part in a system, Z-AIO fits the bill.
Zaino Z-AIO ALL-IN-ONE is available now at Zaino's online store (www.zainostore.com), or by telephone at 888-999-9870. Technical questions should be directed to: 732-833-8800.